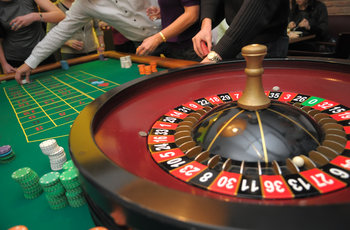 What you will find below is a full and comprehensive list of the different roulette strategies we've written about, as well as tips and other pieces of information that you may find useful.
For each strategy, we've gone into great detail on the rules, progressions, odds of a losing run and the maths behind them. You're welcome to test them out on our free roulette games for as long as you like.
Before we get into the various strategies, it would be best to make a few things clear. Roulette is a mathematically perfect game in favour of the casino. The house edge for European roulette is 2.7% and for American roulette it's 5.26%.
The only way a roulette strategy could be truly effective and a guaranteed winner over the long term of play would be if it was able to eliminate the house edge and put the odds in your favour. There's no such strategy for roulette. While that may be disappointing, please read on because the information below is the best and most detailed that you're going to find.
With flexible table limits, Red Dog are the perfect USA online casino for any roulette strategy. They also have live dealers and they pay out quickly when you make a withdrawal. Play at Red Dog Casino.
Roulette Strategy Without Hype and False Promises
If you've searched online for a system before, you've probably noticed that there's a lot of junk out there with websites talking about "best winning systems" "guaranteed to win" "exploits casino flaw" "suck cash on autopilot" and many more.
You won't be finding any of that rubbish below, just real world strategies and tips, without the hype and false promises. You can read about all of those systems/software programs that guarantee easy winnings in our roulette system reviews.
The whole point of a roulette strategy is to first of all manage your bank roll, and secondly to increase your odds of winning over the short term by betting large to win small. For example, several of the strategies below involve increasing bets after a loss and continually increasing them until you get a win.
By doing this, you are betting large amounts (the bets added together after each loss) to win a small amount because after your previous losses have been covered, there will only be a small profit. Quite often with progressive systems, hundreds of £/$/€ are wagered to win just 1 £/$/€.
Something else to consider is that you will have more winning sessions than losing sessions, but your wins will be small (while risking more) and on the occasions when you lose, your losses will be far greater than your wins. That is the risk of gambling and roulette is no different.
With all that said, here are the different roulette strategies we've written about. This list is by no means conclusive; we do add to it and we're always open to adding ideas from our readers, so feel free to contact us if you think you have a strategy that we could write about and would be of interest to our readers.
Martingale Roulette System – This is a system that involves increasing bets after a loss until you get a win. It is commonly used on Red or Black but it can be applied all over the table if you have the correct progression. Not only have we gone through every bet, we have tables showing the overall loss at each stage and we've shown you the odds of going on a bad losing run i.e: 10 Reds in a row when you're betting on Black.
Reverse Martingale – Also known as "Paroli", this is a positive progression system where you increase your bets after a win in the hopes of riding a winning streak while keeping the losses to a minimum when you go on a losing run.
D'Alembert Roulette System – This is a strategy that is based on even chance bets. It's a relatively safe system to use (like any strategy there's risk involved though) and if you have as many wins as losses you will have a nice win.
Reverse D'Alembert – This is the opposite of the regular D'Alembert (above). The main downside of this system is that you need more wins than losses in order to be successful.
Fibonacci Roulette System – This is an interesting strategy that uses a slower rate of progression than the Martingale by winning back losses over several winning spins rather than one. It's possible to have considerably more losing spins but still come out on top, providing of course that you don't go on an extended losing run over a short space of time.
Reverse Fibonacci – Another example of a system having the rules flipped around to create a "reverse" version. In our opinion, this one isn't as good as the normal Fibonacci which we covered above.
Labouchere Roulette System – This is sometimes called the cancellation method because you construct your own betting line and cancel numbers off it as you win. It is slightly more complicated than most other strategies and may require some practice to get your head around it.
Cover The Table – On this page we talk about several different ways that you can cover large portions of the roulette table such as betting on 35 numbers, betting on 17 splits and so on.
Flat Betting – On this page we talk about the upsides and downsides to flat betting which means betting the same amount on every spin with no progression.
Oscar's Grind – This is a Red/Black system that play in stages of four and aims to get a profit of 1 unit for each betting cycle. It increases bets after every win and they remain the same after a loss.
Red And Black Strategies – This is a page that contains links to all the different strategies that we've covered that can be used on Red or Black which are by far the most popular bets.
Dozens And Columns – Here we talk about two different betting systems that can be used on either the dozens or the columns. The first is designed for betting on just one dozen or column, the second is for betting on two at the same time.
James Bond Roulette System – Used by Bond himself, not in any of the films, but in the written novels. This is a system that covers 2 thirds of the table, plus the 0. It could be described as another strategy to cover the table but due to it's notoriety, we've given it it's own page, complete with a diagram, examples and whey you shouldn't use a progression.
FOBT System – Short for fixed odds betting terminal, these machines are found in bookmakers throughout the UK and they are big business. Here we discuss whether or not there are any systems that can be applied specifically to them and then we go into whether or not it's possible to cheat on them. Spoiler Alert: it's not.
Roulette Computers – These are cheating devices that, realistically, can only be used in real casinos. Without doubt, the use of an effective computer is the best and easiest way to win at roulette, but finding such a device is difficult. Then there's the fact that in many countries and jurisdictions, they're illegal and you will end up in jail for using one, so for this reason, we can't recommend them.
Roulette Tips – Here is a collection of 8 roulette tips that should be helpful to new or intermediate players. You won't find anything new or ground breaking here, but we truly believe that this is the best collection of tips that you're going to find on the Internet. The reason for that is because we keep it real, we don't make false claims about "winning a fortune" like other websites; we just give useful tips to help you understand the game.

Red Dog are a fantastic online casino for USA players. Multiple roulette games to choose from, live dealers, mobile friendly and fast payout times with no hassle or problems. Play at Red Dog Casino.