There are multiple variations of roulette, especially online with various casino developers adding their own unique twist to the game such as special jackpot slots and the popular "miniature" version. What we're going to do here is talk about the many different types of roulette, starting with the more traditional forms before getting into the newer versions that you will only find online. You can try out several of these games in our free section with no download or registration, just click and start playing.
Traditional Roulette Variants
European Roulette
This is the most common variation of roulette that you find online and in many land based casinos across Europe (the name gives it away). It has a single zero resulting in a house edge of 2.7% which is considerably lower than the American game.
Some European games have a "Racetrack" which contains special Call bets such as Voisins Du Zero and Orphelins. Multiple European games with varying graphics can be found in our free section.
American Roulette
The American version of the game has an extra slot on the wheel, the 00, but the payouts remain the same, resulting in the house edge jumping up to 5.26% which is amongst the highest you will find from any casino game.
You find American roulette in casinos across the USA as well as some high end London casinos. Due to the increased odds, you shouldn't play this variant of the game unless you have no alternative, for example, you're on vacation and the only game on offer is American. When it comes to playing online, there are many European and French alternatives available at all reputable casinos so it makes no sense to play the American game.
French Roulette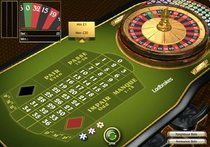 Of all the roulette variants, French is the game that you want to play because it has the best odds for even chance bets. Like European roulette, it has just one 0 slot but any losing even chance bets (such as Red/Black) pay back half.
So if you had a £5 bet on Red and the 0 hit, you would get £2.50 back. While it's not a win, it's certainly a nice consolation and better than a loss. When you're playing the game for the first time it will probably take some getting used to because the table layout is unique and the writing is in French. You will be hard pressed to find this game in a real casino outside France because the overwhelming majority only offer European or American.
Roulette Variants Aimed at Online Players
Mini Roulette
This is a game that was developed by online casinos and it can now be found in both Playtech and Net Entertainment casinos.
As the name suggests, it's a miniature version of roulette with just 13 slots on the wheel: 6 Red, 6 Black and one 0. The payouts have been scaled down accordingly (Straight Up pays out 11:1 rather than 35:1) so it's a fun alternative if you're bored.
Live Roulette
Ever since people started playing online, they've questioned the fairness of the games out of fear of them being rigged. While they aren't rigged (read why in Myths and Fallacies), online casinos started to offer live games to eliminate these fears once and for all.
Live roulette is a game that uses a real wheel, table, ball and croupier which is presented to you via a high quality webcam connection. You can see exactly what's happening at all times and you place bets by clicking on the table during the permitted betting period before the wheel spins. We have a detailed section on live roulette that covers how these games work, the best table limits and the frequently asked questions.
Multi Wheel Roulette
Many online casinos offer their own take on a multi wheel game and the example we have to the right is from Betfair. As you can see, there are 6 separate wheels but at other casinos it may only by one wheel with two additional number tracks around the outside, giving you three in total; there are many different kinds of multi wheel games.
In the case of this multi wheel game from Betfair, you need to bet on each of the six wheels at the same time, so if you bet £1 on Red, a total of £6 will be placed, £1 for for each of the wheels. Multi wheel roulette is not a favourite of ours because there's no real way to manage your money or use strategy. On the plus side, it's offered for free at many casinos so you can always try it out for yourself and make your own decision.
Marvel Roulette
Feeling lucky? This is a jackpot game offered by Playtech casinos, featuring several well known Marvel characters such as The Incredible Hulk and Spiderman. You can click on the image to the right to see a full size version.
This game has an additional "Marvel" slot and if you're betting on it, you will get a bonus round when the ball lands on it. The bonus round is a slot game with the reels based on the Marvel characters with Spiderman having the highest potential payout at 100x your original bet. On top of that, there's the potential to win a huge progressive jackpot with many different casinos pitching in to the overall jackpot amount. As you would expect, the chances of winning the progressive jackpot are low, very low.
Triple Bonus Spin
This is a game that you find at IGT powered online casinos such as Mr Green. There are several variations including the similarly named "Double Bonus Spin" and many others and different casinos and software platforms.
Sticking with the Triple Bonus game, when the ball lands in the additional "bonus" slot, your bet is held and placed for free on three spins and you can keep whatever you win. This sounds great and under regular European or French rules, this could give you an advantage.
However, the casinos are well aware of this and to get around it, the wheel has multiple additional slots to keep the odds in favour of the house. Triple Bonus Spin roulette has 0, 00, 000 and the bonus slot, reducing the odds dramatically for the conventional bets such as Red/Black.
Red Dog are a fantastic online casino for USA players. Multiple roulette games to choose from, live dealers, mobile friendly and fast payout times with no hassle or problems. Play at Red Dog Casino.